HIGH PRESSURE AIR COMPRESSOR ASCESSORIES
Click HERE to Send E-mail to Deep-Six
Click here to return to the Deep-Six Home Page
A brief bit of information about compressors: It is extremely important to be certain that the air leaving the compressor to be used for human consumption meet the minimum standards for Grade E. It must have an oxygen content of 20 to 22%. The level of carbon monoxide (CO) must be less than 10 parts per million (ppm), and the limit for carbon dioxide (CO2) must be less than 500 ppm. Oil and oil products must be less than 5 milligram per cubic meter, and the amount of water vapor must be less than 67 ppm.
The owner of a compressor must use the type of oil recommended by the manufacturer. Substitute oils may not be able to take moisture from the air, may burn in the compressor creating CO, and can overwhelm the air purification system quickly.
The oil and the purification systems must be changed periodically. Not changing either may lead to contaminated air which is extremely hazardous when breathed under pressure. Divers' air must be very pure because pollution is concentrated as one dives deeper!
The air purification filters we market contain a variety of pollution grabbers: Molecular Sieve 13X dries the air as it enters the filter. Without dry air the other chemicals will not work and the air may become toxic. With wet air the corrosion of the interior of metallic tanks is accelerated. The Molecular Sieve 13X also removes hydrocarbons (e.g., methane), carbon dioxide, and oil vapors. Activated carbon removes oil droplets, oil vapors, hydrocarbons, and halogen solvents. And, finally, Hopcolyte converts deadly carbon monoxide to carbon dioxide when it is dry. If you run a compressor so the amount of air filtered exceeds the recommended limits, the Sieve gets wet, the chemicals do not do their job, and the air may become poisonous, and will usually smell. Do NOT breathe air that has any odor!!!!
COMPRESSOR HYPER-FILTERS & HYPER-PROCESS FILTERS FOR OXYGEN COMPATIBLE AIR USED TO BLEND NITROX: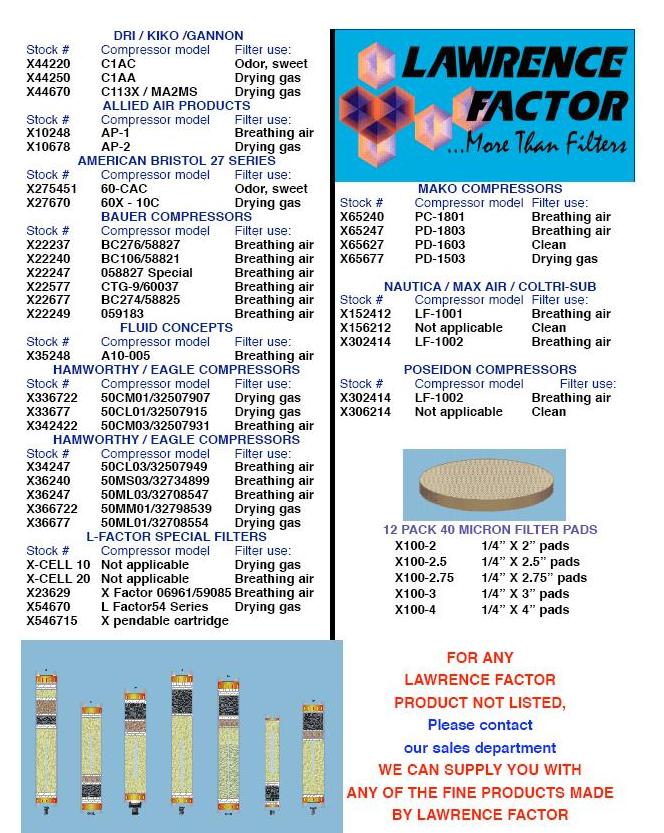 E-MAIL or call toll-free 888-901-5780 for the SUPER SALE PRICE!
On-off filling valve with scuba yoke, push button bleed, and 1/4" JIC male hose fitting
Same as 1 (above) but with a DIN fitting
Same as 1 (above) but with SCBA filling valve with on/off bleed
High pressure equalizer assembly with scuba yoke on each end
0-5800 psi liquid filled gauge
HP (5000 psi) Hose with JIC females on each end
Standard scuba yoke with JIC fitting
Tank pressure gauge with either DIN or scuba yoke
Valve installation tool for Max-Air compressors
Pressure maintaining valve with 1/4" NPT
Check valve 6000 psi 1/4" NPT
500 to 3500 psi adjustable pressure relief valve
300 to 6000 psi adjustable pressure relief valve 1/4" NPT
Moisture/CO indicator for 5000 psi
Digital tachometer/hour meter for gasoline engines
Max-Air 35 purification system
Disposable Max-Air 35 purification system
Disposable Max-Air 75/90/180 purification systems
Repackable purification canister for Max-Air 75/90/180 systems
Inlet filter for Max-Air 75/90/180 systems
Inlet filter for Max-Air 35 prior to 1/96
Inlet filter for Max-Air 35 after 1/96
Six-foot intake hose with fittings
There are many more accessories available for the Max-Air compressors. They include such things as automatic condensate drains, magnetic starters, compressor oil, low oil shut down switches, high temperature shut down switches and filter chemicals. Simply click the e-mail below to find out more information or to get prices on the above accessories.
Click HERE to Send E-mail to Deep-Six